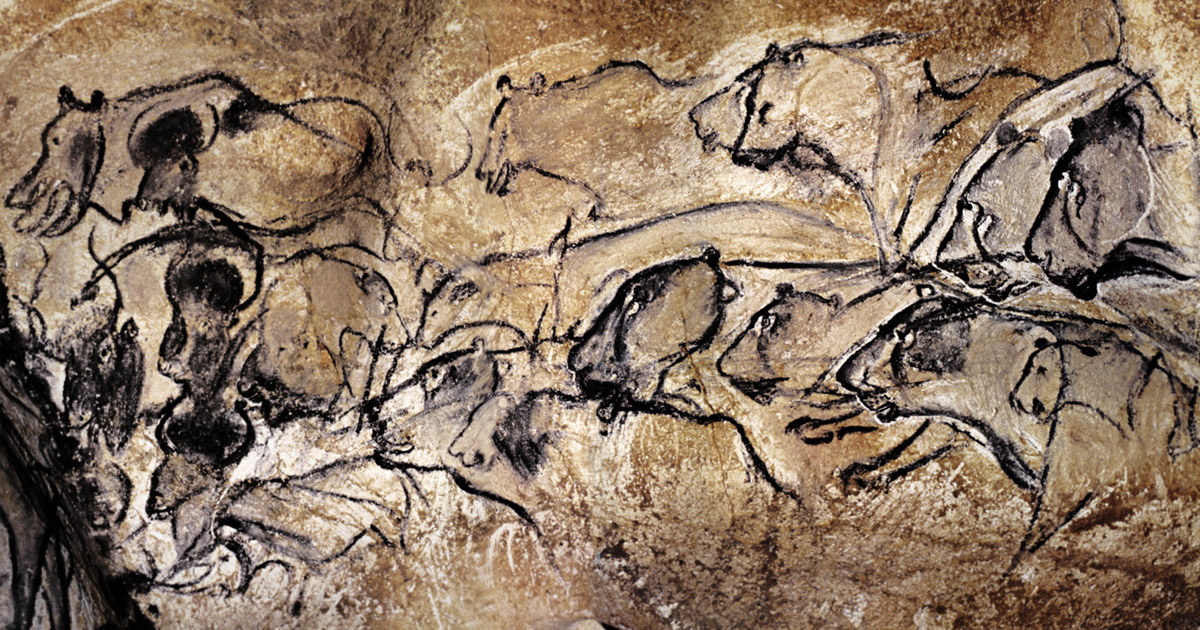 The depth of body.
imagination fills out to an agreeable convexity, &
the tenderness in a bear drawing
like a loom within stone.
Seesaw pitch of breath & stasis:
my heart pounding

Take Heed

halfway
up the mountain to Chauvet's entrance.
Frightened to almost be stopped within minutes of the cave.
(Olson in Hotel Steinplatz feeling
the World Tree give way in his giant frame).
Is that why Chauvet's interior was tinged for me
with the rust of farewell?
Coffee outside the equipment nook
after the 40 minute climb:
4000 people, the guide Charles told us, have visited,
about 400 a year, or did he mean
about 400 will visit this year?
photo of the Methodist Hospital window
in the room where I was born, X'ed by my father
in his "Baby's Book of Events".
Roar of images cascading the wall,
rows of larger-than-life lion heads voracious for
a vertical totem pole of bison heads.
90% of Chauvet is virgin floor.
One bear skull is enveloped in stalactitic casing,
a polished white sarcophagus of sorts,
with a stalagmite a foot high "growing" out of
as if the skull sends up its opaque
10% of Chauvet appears to be metal walkway.
"charter'd Thames"

Nice to keep that much floor virgin
but it is as if this primordial labyrinth has been
jigsawed with streets. Meaning:
no wandering, no "lost at sea" in being's immensity.
Like a huge solitary hanging fang, near the cave's end:
a Minotaur, with a drizzle of fingers,
drawn on a large feline body drawn there earlier.
Some panels boil with activity,
as if they magnetized Cro-Magnon soul,
sucked animal through Cro-Magnon bodies.
The 32,400 year old male rhino
in horn clash with maybe a female
has a fat, pointed erect phallus.
A chaos of animals, like "a paradise of poets,"
one masterly horse finger-painted in wall clay,
to pull the outline boundaries in,
the limestone shows through--
as if nothing that special has happened since!
As if man were an afterthought of a humanimal brew
still beating in my chest
like a wedge of lions crafting a kill.
Asking why certain spots were chosen for figures,
like asking why lightning here, not there…
Here-not-there coalesces into hermetic knots of
as if a solid helix were, this instant,
bursting into univocal lanes
(the metal walkway puns upon).
as if a tweezer carbon-dated, on the spot,
invisible but definite bottom:
death, as a feline gush of misericordia,
beauty & affinity, lined within the notion of being.
How did I manage to walk that last 20 minutes
Why can't I get over that pounding halo of
haruspex enigma …

Breathe &
the various ranges quilted within, &
the many years with Caryl.
Thought of her on that mountain side, panting…
Did her devotion & utter decency
NOTE:
See also the poem "Chauvet: Left Wall of End Chamber" in Reciprocal Distillations (Hot Whiskey Press, 2007) reprinted in CE / The Essential Poetry (1960-2015. With James O'Hern, I visited Chauvet Cave with Jean-Marie Chauvet (one of the 1994 discoverers) on January 8, 2004. My gratitude to Dominique Baffier for arranging our visit. Excellent color photographs of the wall with the paintings addressed in my poem may be found in Chauvet Cave / The Art of Earliest Times, directed by Jean Clottes (The University of Utah Press, Salt Lake City, 2003).